Nanophoton has released TERS Microscope TERSsense. The spatial resolution beyond the diffraction limit and enhancement effect opens up the world of nano Raman imaging that has never reached before.
Raman image with spatial resolution of 10 nm
Small structure of carbon nanotubes and graphene can be observed with TERSsense. The G-band intensity profile along the white dotted line in the TERS image of CNTs demonstrates a spatial resolution of up to 14 nm. In the images of graphene, the distribution of armchair-edge is clearly observed. TERSsense opens up the unexplored nano-Raman world with a spatial resolution beyond the diffraction limit.
TERS images of CNT and spacial resolution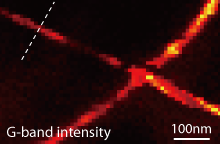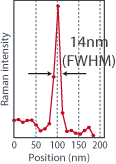 TERS images of graphene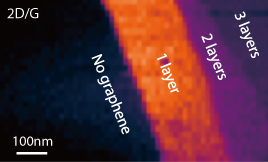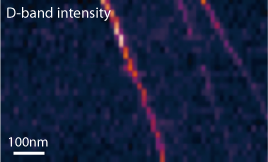 Key features of TERSsense
Tip-enhanced Raman scattering microscope TERSsense developed by Nanophoton is realized by the technology transfer from Prof. Kawata's laboratory and Phtonics center of Osaka University. Utilizing the fabrication technology of probes developed by Kawata group, TERSsense guarantees the enhancement of Raman light and high reproducibility of TERS measurement. Every probe is inspected before shipping and delivered to our customers with performance guarantee. In contrast to gap-mode arrangement, there is no need to have a sample sandwiched between a metal probe and a metal-coated substrate. And, the adoption of transmission configuration of TERSsense makes it possible implement extremely sensitive measurement, with the utilization of a high NA(1.40) objective lens.
What is the tip-enhanced Raman scattering (TERS) microscope?
Tip-enhanced Raman scattering (TERS) microscope is a kind of Raman microscope which provides extremely high spatial resolution beyond the diffraction limit. TERS microscope is an instrument that combines laser Raman microscope and atomic force microscope (AFM) equipped with a cantilever probe coated by metal. The metal nano-structure at the tip of probe enhances Raman scattered light locally and as a result, nanometer spatial resolution can be obtained.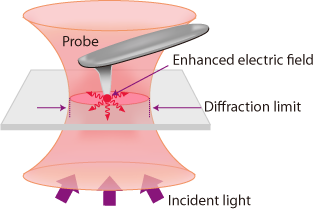 Development story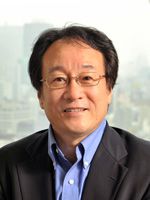 Galileo Galilei denied Geocentric model and was confined by the Curia. Isaac Newton preached the idea of universal gravitation which identified that the Sun has been predominating the movement of the Earth from the distance of 150 million km. It is natural for not believing the fact that the rise and fall of tides is controlled by the moon. However, science is first born when it is contradicting common knowledge and authority.
"Diffraction" is one of the basics of optics, which is described in every textbooks. Even using the world-best objective lens, light would diffract and substance less than diffracted light's wavelength (500 nanometers) in size cannot be seen. In October 1992, I came up with a theory that denied this common sense.
Irradiate the tip of the metal needle which is smaller than wavelength, a light spot smaller than wavelength would be formed and if we scan it over the sample surface…… optical microscope with nanometer resolution would be possible. With this idea in my mind, I got straight to polish the tip of a dress pin in my laboratory manually and place the sharpened needle near the totally reflecting prism surface. The nano light spot became luminous and an ultra‐high resolution microscope was completed at that moment. I obtained a patent right away and presented it at an international conference in the following year. It did not attract a great deal of attention during that time.
It was announced at an academic conference as an application of Raman scattering microscope in 1999. A few years later, a TERS microscope boom has broken out. We have presented new principles such as nonlinear optical spectroscopy and nano applied pressure, simultaneously with applied research related to observation of nanomaterials.
At that time, the operation of TERS required an advanced level of technology. It was not highly reproducible as well. Without solving these problems, TERS microscope cannot be a practical instrument for researchers, technicians and users of nano science and technology. We have been working on developing instrument that can be used by all general users in recent years. 20 years has passed since the initial presentation, we are now able to carry out technology transfer. We consider it as a revolutionary technology since it took 50 years from the model formulated by Copernicus to Galileo
Distinguished professor of Osaka University
Satoshi Kawata