In the Chairman's Office
A company where students are always active
---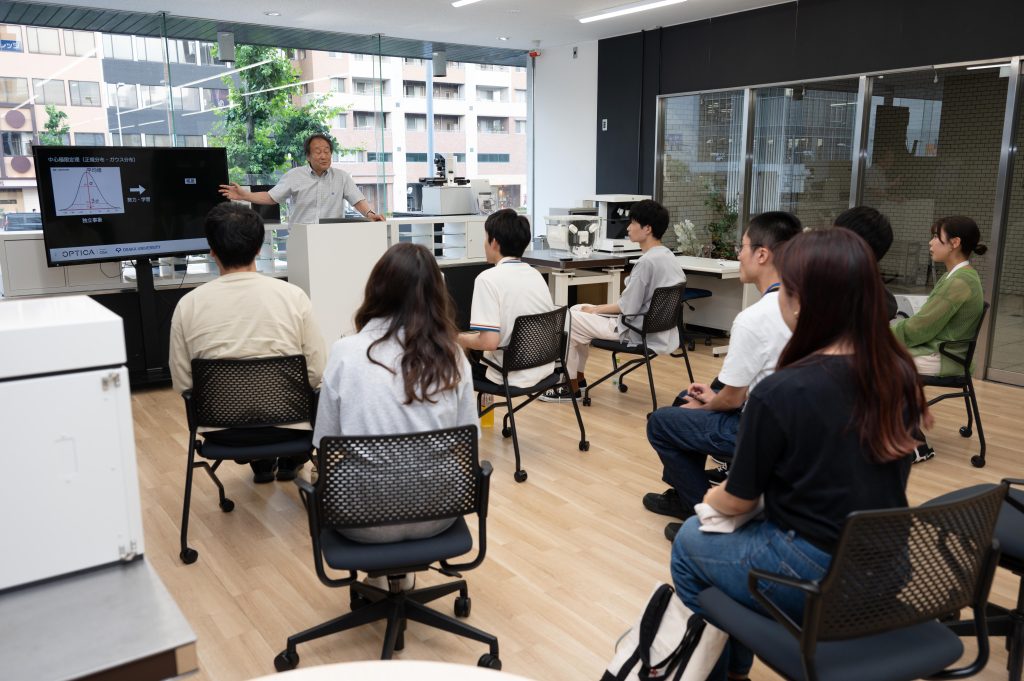 On June 16, I held a lecture on "Entrepreneurship, Corporation and Nanophoton" for part-time students and internship students working at Nanophoton in the head office showroom. I presented the topic and the students asked many questions.
Nanophoton now has eight student interns and part-timers. Many students have worked at Nanophoton in the past. The fields of study include applied physics, precision engineering, business engineering, information science, foreign languages, mechanical engineering, electrical and electronic engineering, materials, and biofunctional sciences, it is truly diverse.
Many of our students have stayed on after graduation or after obtaining their PhDs and have gone on to work for Nanophoton. Why did they join such a small company instead of going to a large company? At large companies, new employees are assigned to different departments within the company, where they become one of the cogs in the wheel. At Nanophoton, employees belong to one department for the time being, but they are often the only one in that department and have a lot of responsibility.
If you are not good at following directions or being a team player, and prefer to think, plan, and act on your own, a small company or start-up will be a good place for you to demonstrate your abilities. Since the number of employees is small, you can discuss with management and other departments on a daily basis, which gives you a good overview of the company as a whole. D. (or Ph.D. dropout) is still not very welcome in large companies, but I think it is suitable for startups that use cutting-edge science like Nanophoton.
Nanophoton left Osaka University's Suita campus two and a half years ago for the town of Minoh Semba, which is across the street from the newly opened Minoh campus and within biking distance from the Suita campus. It is always important for startups to interact with students and researchers. It can be said that venture companies in Silicon Valley are also nurturing the city and its culture together with students and graduates of the university, rather than saying that they originated from the university. That is why they never leave Silicon Valley even if they become huge global companies. We, too, would like to put down roots here as the first company in Photonics Hills.
In the future, when ventures will support the world, employment will mean starting your own company. In order to do so, students must first learn about venture businesses, as well as management, finance, HR, and so on. I am planning to talk about these matters at the exchange meeting with part-time students and interns. The next meeting will be on August 30. Students, postdocs, and young faculty members who have never been to Nanophoton before are welcome to join.
23 July, 2023
Nanophoton Corporation
Chairman and Representative, Satoshi Kawata
---