---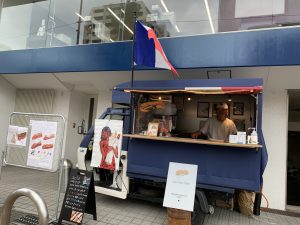 A cute kitchen car came in front of Nanophoton's headquarters. Usually they are out in office areas such as Yodoyabashi and Hommachi, but we found them coming to the Minoh Campus of Osaka University and asked them to come to the front of Nanophoton's headquarters (ICC Building). The small blue electric car made in France (they say there is only one in Japan) is very stylish and matches the color of the building. People working at companies near the building and bus customers getting off at the bus stop in front of Nanophoton (properly called Shin Senba Minamibashi bus stop) stop by it as if it were a curiosity.
Minoh Semba, where Nanophoton's head office is located, is lined with buildings along Shin-Midosuji Avenue. Recently, several tower condominiums are under construction. However, there are few signs of people in the town, and it is deserted. Are they all holed up in their offices or homes? There is no place to get to know each other and no opportunity to get to know each other.
That's why it's a kitchen car!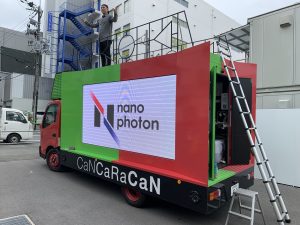 The network that began with the kitchen car has led to a company called CanCaRaCaN, which owns the caravan car, and it looks like a demonstration caravan of Nanophoton products will begin using the caravan car. We will report here when it starts.
Minoh Senba is just like California's Silicon Valley. There is a university, a railroad, two highways nearby, an airport, greenery, mountains, and an upscale residential area. I have been talking to the people of Minoh City and the Senba Textile Association about creating a Photonics Hills here, not a Silicon Valley. The only difference between Palo Alto and Silicon Valley is the lack of bustle in the city, where trendy restaurants from various countries line the streets. This is where people meet and startups are born. The bustle of the city expands the network of people, from which diverse businesses are born.
The kitchen car is called Slow Food Stand and they make baguette sandwiches using French wheat. They show up every Monday at noon.
Shin-Midosuji northbound, in front of Hankyu Bus Nanophoton, is going to be fun.
15 August, 2023
Nanophoton Corporation
Chairman and Representative, Satoshi Kawata
---